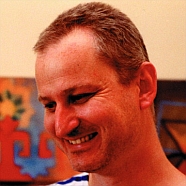 Petr Jareš
born: 23. 7. 1959
graduate: Vysoká škola uměleckoprůmyslová in Prague
address: Žerotínova 45, 130 00 Praha 3
e-mail: petr.jares@quick.cz
http://www.petrjares.cz
Author also in 1996, 1997 and 2003.

Mikulov is in essence Mickey Mouse
Mikulov is a cheerful small town with giant round ears, big eyes and a long tail, dressed in children's pants. Its successful fights with dogs, cats and people satisfy not only child spectators, but also adults, who also include those who secretly dream of winning a fight with a stronger opponent; however, in real life, they are always doomed to loose. They are led by Donald Duck, "the most genial of ducks having a human voice" – the worried uncle of three mischievous ducklings, the apathetic dog Pluto and the cunning dog Goofy... Let's hope that Mickey Mouse will remain to be visited by more noted characters, who will become favourite and faithful friends of several more generations of inhabitants of our planet and of Mikulov.
This small reflection was inspired by repeated reading of Mickey Mouse.
Unquestionable is also the influence of other noted authors: Ondřej Sekora's Ant Ferdy, Jorge Luis Borges' General History of Villainy, Bohumil Říha's Captain Change, Marcel Proust's In Search of Lost Time IV – Sodom and Gomorrah, Franz Kafka's The Process, Carl Gustav Jung's Modern Man in Search of Soul.
Petr Jareš
Prague, October 15, 1998
Mikulov Art Symposium 1998
July 18th - Agust 22th, 1998