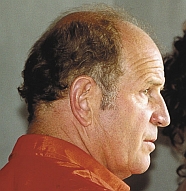 Milan Kunc
born: 27. 11. 1944
graduate: AVU Prague, AVU Düsseldorf
address: IM Klapperhof 1, D - 50670 Cologne
http://www.galeriecaesar.cz
I like:
Doors that chirk, drought, when warmth or heat comes together with ice-cold. Bubbling coffee machines and central heating that sings at night and wakes us from our sleep. Squealing car brakes, ringing church bells and rusty door handles, cracked plaster on houses, spider webs flying in the wind. I like murmur in the bushes and lamps that come on and off in the park at night, dogs that rush like crazy in the dark, flames burning at night, accidents at crossroads that stop the traffic, a spit on a concrete sidewalk.
I like brand name tables trampled by elephants, bats in the moonlight, May cats obsessed with love, signing nightingales in the yard of the dermatological clinic, minus 15 centigrade with quiet birch trees with the veil of frost. Country woodcutters' shacks with stuffed animals and cuckoo clocks on the walls. I like not having breakfast but I have a s of the cemetery, graffiti on freshly renovated old buildings. Posters by Salvator Dalí on the walls of secretaries' single bedroom flats. I like female artists who paint chronically sweet women, ceramic wheelchairs, abstract artists who also venture into conceptual work and then rather become teachers.
I like the modern world that is tired of the countless successful innovations. For what can art or an artist do in the world that gets the contents confused with the cover?
I like the everyday absurdity that becomes so ordinary that it becomes normal again.
I like creating masterpieces, creations that contain all the rules of contemporary aesthetics. New, future art must be so beautiful that it will make you scream or cry!
Milan Kunc

Mikulov Art Symposium 2000
July 22th - Agust 26th, 2000