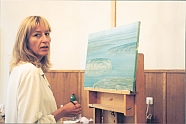 Ivana Lomová
born: 22. 11. 1959
graduate: České vysoké učení technické Prague
address: Cukrovarnická 8, 160 00 Prague 6
e-mail: ivana.lomova@razdva.cz
http://www.lomova.com
What is the relation between a person who – let's say – creates an artwork and the work itself? Do "good people" make "good" art? Can an unprincipled villain get positive energy into their work? How big a role does the intellect play? How much does our art benefit from suffering? Do we, who are trying to do stuff, know at all what we're doing? Or are we just mediators between our unconsciousness and the matter? Or can we connect to some kind of a wave and let it take us away? To what extent can we affect our endeavours? Can you "think up" a work of art? Can the so-called "normal" people create some sort of art? Will it still be interesting? Doesn't happy and quiet life lead to repetition and stagnation? Isn't it better to be crazy? A little, or completely? And what about the so-called personal life? Or "personal happiness"? You can't fix in art, or pretend. It will always give away what kind of people we are, whether we want or not.
Our lives have a great effect on our works. A sensitive and a little trained eye can perceive what the author would never reveal in a sober state. Our works can tell us about ourselves things we don't even know – or we are not aware of them. The paintings we create are like our children; they are from us, they take after us but from a certain point they go on living lives of their own. They can have new explanations for our old questions. It's difficult to part with them, and it's nice to come back to them.
In Mikulov, I was lucky enough to live for four weeks with my colleagues – five impressive personalities, get to know them better and at the same time observe how their works are being made and how their children play. It was a great, exciting experience and it's one of the many things for which I'm grateful to you.
Ivana Lomová
Mikulov Art Symposium 2001
July 21th - Agust 18th, 2001