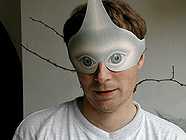 Petr Nikl
born: 8. 11. 1960 in Uherské Hradiště
graduate: AVU Prague
address: Matějská 8, 160 00 Prague 6
e-mail: pnikl@tiscali.cz
http://www.lakomebarky.cz/
Author also in 2001.
Reduction
(An observer's notes, illustrated by living light)

My name is Karel. Karel Curator. I do various things, I meddle with everyhing. I'm obessed with researching, optics and astrology right now, maybe even botany and so... But I can never complete any of that. My interest is too little focused. I would most likely brand myself as an OBSERVER.
For several months now I've been able to use a study in the eastern tower of the chateau. That's an ideal place for observations. Like the kestrels below me, I pursue my prey slowly and in detail.
The room has a circular plan and therefore acts as a perfect visual and acoustic pocket. The church clock chimes every quater and the sun shines almost all the time.
That's exaclty what I need for precise orientation, then I only need a couple of magnifying glasses to be able to record eveyrhing on my MAP.
I came originally to carry on with painting flowers. Those tiny formations fascinate me, you can see the construction of the entire universe in their buds ...
The surroundings of Mikulov boast an abunandance of fauna and flora.. The Rock Garden of Europe. Three types of iris and adonis particularly caught my attention. And HOUSLEEK. From the insects, the rear horse of course but so far I can only boast about this tiny grasshopper. I didn't want to kill him, understand...it just giot into my field of vision... and its shape, legs, tunics, head are interesting for me, understand, INTERESTING!
Painting doesn't satisfy me now. I absolutely succumb to my window and everyting it sucks in. I'm bewitched by the ability of light to draw everything on the retina of this chateau window.
These simple systems enable me to map the terrain, unfold it and fold it again like a mosaic. On the night of 20th September I get a wild dream from which I am awakened by a desperate outcry.
It is still night.
I map the place in my head from where the outcry came. It must have been close, somewhere near the church.
In the morning I inspect everyting again. I notice the small hand on the church tower clock is a little bent, circulating with a piece of a blue-chequered cloth. I recollect a man in a blue-chequered shirt and black trousers who dwells every Wednesday in the area of the western slope of the Holly Hill – between two full-grown pines – and awaits something there. After an hour he always leaves in the other direction into the woods. That's strange. Nobody walks in there, everybody goes down the marked path along the Stations of the Cross. I don't understand what he does there. I'm restless for the next few days. I make for that spot in between the pines. Usually I don't go out at all, only to eat and drink, I'm an OBSERVER, stranget, many don't like seeing me here.
At the site I discover, under a root, a pair of strange earrings from cut glass, and also – a picked houseleek. I take them...
I recall meeting a young Japanese girl clinking these very earrings. They don't commonly wear earrings like these around here. It was in July, during the Nations of the Dyje celebrations. We dance togehter to cymbalo music. She says she studies Bohemian studies in Brno. I tease her. Then she disappeared. She said somebody was waiting for her. The colour of that outcry is coming back to me! I think I can tell the emotions of a European from those of a Japanese. It must have been her, but I searched the vicinity of the tower. The western slope as well. I'm restless for the rest of September.
I don't get it. I find myself in fear. Somebody clearly knows of my location.
On the opposite slope I sometimes see the reflection of sun in a mirror. I attempt outside adjusments of the window, I'm afraid that holes are too obvious and that just as I can see everywhere, anybody anywhere can watch me, the glazes of my magnifying glasses.
I have to check one other place from which you can see the chateau's eastern tower very well...
Petr Nikl
Mikulov Art Symposium 2003
July 19th - Agust 16th, 2003