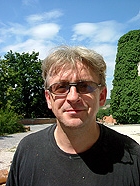 Stefan Milkov
born: 9. 3. 1955
graduate: VŠUP Prague
address: Jana Zajíce 10, 170 00 Praha 7
e-mail: stefanmilkov@email.cz
Author also in 1994, 1995, 1996 and 1997.
Letná 18th October, `03

Should I say something about the Mikulov Art Symposium and its 10th anniversary year, let me just note that I am proud to have been there when it began, that I am happy to have been able to participate five of its years. That, as I believe, everything we expected from the event came true. Thanks belong to the organizers, artists, the museum, enlightened local authorities, sponts, thanks to friends and unselfish supporters – citizens of Mikulov. Thanks to the town of Mikulov itself and its spirit, thans to all the beverages, sweet, bitter,and sour, and thanks to the uncoverbale atmosphere. We have credit, we have a permanent collection and we are happy about it. So let's go on. I LOVE YOU MIKULOV!
Stefan Milkov
Mikulov Art Symposium 2003
July 19th - Agust 16th, 2003