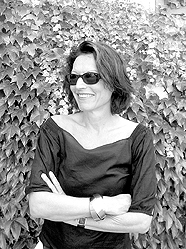 Eva Eisler
born: 27. 7. 1952 in Prague, lives and works in Prague and New York
graduate: Parsons School of Design, New York (USA)
Průmyslová škola stavební in Prague
address: Pštrossova 27, 110 00 Prague 1
e-mail: evaeisler@gmail.com
http://www.czechdesign.cz
Author also in 2006.
Serendipity of Mikulov
In my imagination I return to Mikulov. From the town square I ascend to the Chateau along the gentle ramp staircase, with a bunch of keys I unlock the first chateau gate, then the second and I am already at the main courtyard browsing through my memories.
This summer was about the light that kept changeing over the Holly Hill, about abundance of delicious wine, about fata morgana of a sea bay with boats anchored on the horizon, about restless dance, about joy of freedome and liberty, about Katka's beautiful eyes and her plum-blueberry cakes, about her nice boyfriend Alof, about Helena's aching knee and sheep cheese personally delivered from Paris, about Lípa's kind omnipresence, about Sobotka's wet camera and his dancing bravado, about Medek's nice tanned face and his barely finished statue, about talking to Christian on meditation, about Mr Prokeš and mr Ďurica and their generous support, about Trafika where they know the secret of stretching veins with sheer liquids, about a Spanish wedding, about a friendly community of artists, about Jitka's dedication and the smart girls from the production team, about signing in wine cellars that I missed being asleep, about a demanding trip over the Pálava Hills, about the exhaustion from nights spent awake, about Ivanka's singing and her grace, abotu Hanka's halušky, about Šmeral's collection of curious objects and his dancing frenzy, about Stolín's habit of washing dishes in the morning, about the mysteriously vibrating pipe in Husova Street, about the frowning waiter who smiled in the end, about the bizzare chair from attire nobody was allowed to sit in, about the statue of Venus of Věstonice dressed in bikini, about rainbow, about the red setting sun, about the mayor and seawater allegedly discovered deep under the town, about flying starts on the night of the exhibitio opening, and not to forget, mainly about work, born as frutifully as the wine on the sunny slopes of te Pálava Hills. These are fragments of memory that will permantly press upon cerebral cortex like the hands of a famous stat into concrete. Mikulov, thank you for being there.
Eva Eisler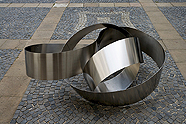 Wined up
stainless steel, 200 x 150 x 100 cm, 2005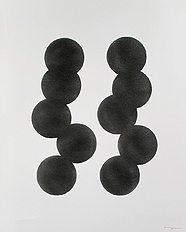 Transformation I
graphite on paper, 88 x 70 cm, 2005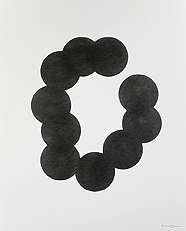 Transformation II
graphite on paper, 88 x 70 cm, 2005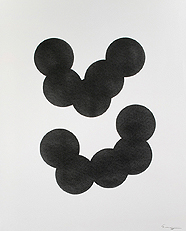 Transformation III
graphite on paper, 88 x 70 cm, 2005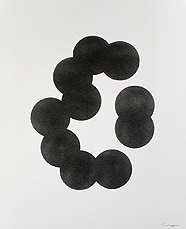 Transformation IV
graphite on paper, 88 x 70 cm, 2005

Idealist
stainless steel wire, 120 x 80 x 80 cm, 2005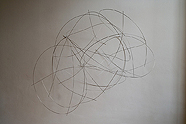 Metamorphosis
stainless steel wire, 250 x 150 x 100 cm, 2005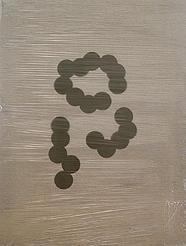 Insinuation I
foil on canvas, 200 x 150 cm, 2005
Mikulov Art Symposium 2005
July 16th - Agust 13th, 2005