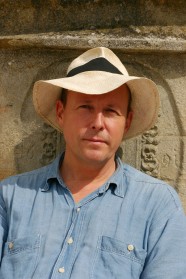 Tomáš Ruller
born: 15. 3. 1957 in Brno
graduate: Akademie výtvarných umění in Prague
address: Kalvodova 10, 602 00 Brno
e-mail: tomas@ruller.cz
http://www.ruller.cz
Once, at the times when the castle was a cheap hotel,
I had a dream of the Holy Hill.
I was attracted by the dazzling glare of the sun above its top.
Watching these fleeting moments out of my window
I lifted my eyes to the sky,
Into the celestial blue and the darkness.
And a few reflections remain
Of that light impossible to capture.
Tomáš Ruller
Mikulov Art Symposium 2006
July 15th - Agust 12th, 2012