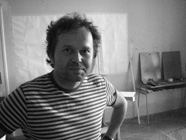 Petr Zubek
born: 17. 2. 1967, Frýdek-Místek; lives and works in Cologne (DE)
geaduate: Akademie výtvarných umění in Prague, Kunstakedemie Düsseldorf, Kunsthochschule für Medien Köln
address: Goethestr. 11, D-402 37, Düsseldorf (DE)
e-mail: petr@petr-zubek.de
http://www.petr-zubek.de

The Seventh Day
...it is night. Time to start working. I took out a a school desk from our kitchen into the Chateau's southern courtyard and my work tools (notebook, Wacom tablet, projector). I'm turning everything on, sitting at the desk and beginning to draw. It works just as I imagined. A short stroke with my hand transports a 20-metre white shining line onto the building. Physically, quite an unusual sensation. I keep on drawing with enthusiasm. Technology can do miracles.
Eventually the drawing lights up the whole courtyard. I think of the origins of human creativity, of cave paintings, of the sgraf. to on the Knights House, of those who make sgraf. ti, of leaving traces stop... I take photos of some of the drawings.
A clatter of keys, a wail of the gate. Machiel and Magda are back from the trip. "Oh," I heard behind my back. We exchaged some words and looked for a while on the architecture with drawings of light. Then they both went on to the kitchen. They are very nice. I think they are freshly in love.
I have no plan, I keep on drawing freely, I delete the drawing I . nished and start a new one. I observe everything more like a phenomenon of nature in which I have little importance. I would like to let others draw like this in the coming days.
Machiel brought me a glass of wine and for a while posed as a model so that I could light him up as well with my drawing. Then he and Magda went to sleep.
And I keep on drawing and contemplating... I think of the situation I am in, of the history of the Chateau.
What would Cardinal Dietrichstein think if he saw me here now. Saw us. In fact, I would like to see him too. And here come Einstein, travelling through time and space... I imagine what it would be like if future and past changed sides.
I was cared by some sounds behind my back. Two weasels slipped under the gate and their black long slim silhouettes pattering to the other end of the courtyard.
I am cold and so I pack up. I musn't forget anything, tomorrow the yard will be full of tourists again with cameras.
I lie in a Chateau parlour, high above the town. Tow kestrels hid int he shade of the next window sill, just like every night to keep out of the strong lamp illuminating the Chateau at night. The wind shakes the window, some sounds in the hallway... steps? ...clam down, there si no danger, ...it can only be a Chateau ghost, or another artist.
Petr Zubek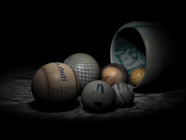 Still Life 1
digital print, 60 x 80 cm, 2007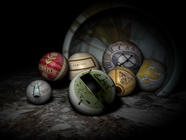 Zátiší 2
digitální tisk, 60 x 80 cm, 2007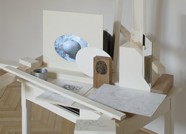 Study
combined technique, wood, DVD, drawing, photograph, 178 x 200 x 100 cm, 2007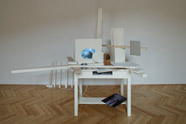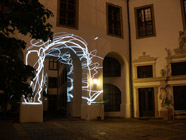 Drawings by Light (series III – Mikulov)
drawings projected live, graphic tablet, computer, beam, 2007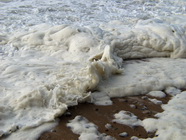 moře
digitální fotografie, 60 x 80 cm, 2007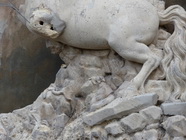 Socha
digitální fotografie, 60 x 80 cm, 2007
Mikulov Art Symposium 2007
July 21th - Agust 18th, 2007