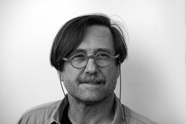 Vladimír Špaček
born: 20. 1. 1945, Praha; lives and works in Mainz (DE) and Zürich (CH)
graduate: Filosofická fakulta University Karlovy in Prague
address: Mittlere Bleiche 9, D-55116 Mainz (DE)
e-mail: spacek@gmx.de
http://www.kunst.uni-mainz.de/foto
The relations between light, space and time have been for almost forty years one of the two major themes of my artistic work. Photographic consequences of my thoughts on the subtle textures of this phenomenon have been developing from "seeing" to the installation and engagement of other art media. I published them at a number of exhibitions and publications. Reacting to the specific features of the particular exhibition area was crucial for me.
I was planning to realize three-dimensional light objects in the context of large-format photographs for quite some time. The Mikulov installation "Us" (III) follows up from my previous experiments and it is the first attempt to implement them in this form. The starting point was understanding and respecting the given space conditions and context. Among other signi. cant aspects of my work was the need to address and to provoke our contemplative abilities with minimal artistic means as well as leaving our experience the freedom of interpretation.
The offer to work single-minded and undisturbed for a month in an ideal environment was rare and extremely valuable. Inspired by the specific and very demanding space area of the chateau, the atmosphere of Mikulov and by encounters with other participants of the Symposium, I could try things out, live them through, and realize them. Mikulov became another turning point in my artistic work.
Vladimír Špaček

Mikulov Art Symposium 2007
July 21th - Agust 18th, 2007