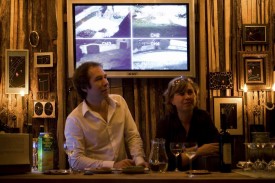 Mathias Antlfinger / Ute Hörner
Antlfinger Mathias
born: 16. 12. 1960, Limburg an der Lahn (DE)
graduate: Kunstakademie Düsseldorf (DE)
Hörner Ute
born: 1964, Limburg an der Lahn (DE)
graduate: Kunsthochschule für Medien, Cologne (D)
address: Neusser Str. 35, D- 50670 Köln am Rhein, Německo (DE)
tel.: Mathias +49 (0) 171 695 1638
tel.: Ute +49 (0) 151 212 129 40
e-mail: info@hoernerantlfinger.de
Le Chat Noir
Media installation consisting of a wooden shack, a bar, chandeliers, a monitor and a camera monitoring system.
Superstitions nowadays reach remarkable proportions and make people look for causal relations of cause and consequence between independent events, for they want to make the complicated world around them more orderly, or to render a deeper meaning to personal destinies and events, or even to bring about catastrophes and distastes according to the principle of self-fulfilling prophecy. Theoretically, this is the phenomenon of synchronicity – "ghosts appear where there is an observer".
The cat, particularly the black cat, was considered a mystical animal before the Enlightenment, which drew attention to a coming disaster and which was linked to the invisible worlds. Now we live in the 21sty century and the cat has been reduced to a metaphor. Given today's rational world, the mystical function has partially past onto art.
During the Mikulov art symposium, we positioned four monitoring cameras in the dark surrounding the chateau. We then partied in the Le Chat Noir Bar – a wooden shack made of waste we got from a local sawmill – and waited for the event we were invoking. We solved the issue whether a black cat's appearance in front of any of the cameras it will be an ill or a good omen by giving out a round of champagne on the house. Despite all predictions, such a case did happen twice. According to the footage, the cats were really black.
In agreement with the symposium's underlying idea, the installation Le Chat Noir granted space for the ritual of common and social drinking; at the same time, we raised questions about the mutual causality of expectation and real events. Weren't we, as artists taking part in the symposium, just like black cats whose short appearance might have a meaning?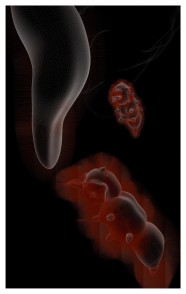 Die Höhlen von Lacan – No. 1 (1/5)
pigmentový tisk, papír 105 x 66,5 cm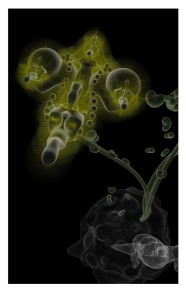 Die Höhlen von Lacan – No. 5 (1/5)
pigmentový tisk, papír 105 x 66,5 cm
Mikulov Art Symposium 2009
8th–15th of August 2009