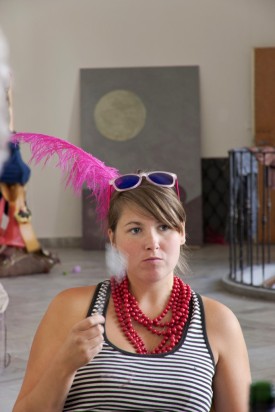 Vendula Pucharová Kramářová
Vendula Pucharová Kramářová (1985) graduate of the Arts Department of the Pedagogical Faculty of Masaryk University in Brno. In 2009, she began studying painting at Tomáš Lahoda's atelier at the Faculty of Fine Arts of Brno University of Technology. In her work, she often refers to the area of her origin – the community of Drnholec near Mikulov in southern Moravia. She finds inspiration in the local folklore traditions, its visual manifestations as well as folk songs and oral narrations. She transforms the folk ornament into syntactic elements of organic compositions in which she explores abstraction pervaded by distinctly stylized floral and faunal motifs; in other pieces, she combines meticulously depicted animals into collage-like compositions. Her play with decorative elements includes surrealistic retro stylization as well as pop art whose 'village version' Vendula Pucharová Kramářová aims to create. Occasionally, she also illustrates children's books.
Her work was displayed at an exhibit entitled I Am a Folklore Girl at Brno's Hlídka 2 gallery (2009). Along with Michaela Langová and Vendula Chalánková, she took part in The Days After the End exhibition at Gallery Enter in Bratislava, Slovakia, Ahead of the Mikulov Art Symposium, Pucharová Kramářová and her husband Adam Puchar held an exhibition Half and Half /Together Forever at Doma Gallery in Kyjov. Their first joint exhibition took place in the Dietrichstein Crypt in Mikulov in 2007. She also took part in a joint exhibit called Crash Test at Prague's Topičův salon gallery and several studio exhibitions including entitled Brr, Brr at Aula Gallery of the Faculty of Fine Arts of Brno University of Technology, AM1 64 km Northwest in Bystřice pod Pernštejnem (all in 2011) and an exhibition at Olomouc' Konvikt Gallery (2010). Together with other artists from the South Moravian region, she formed the group Cuprum that was active in 2008 and 2009. In 2010, she reached the finals of the ARSkontakt Awards.
vendula.kramarova@seznam.cz
Mikulov Art Symposium 2011
July 16th - Agust 13th, 2011